One-to-One Executive Coaching and Mentoring
Founded, developed and conducted by Dr. Peter Haddon over the past 40 years.
Aimed at Chairmen/women, CEO's, MD's, Directors, Business Owners, Entrepreneurs and professional sports people.
Some of our clients have included:
Francois Pienaar – captain of South Africa's 1995 World Cup winning rugby team
Bruce Fordyce – the world's greatest ultra-marathon runner
Mark McNulty – international golfer
U.E.F.A.'s Directors and management
St. James's Place Partnership – Directors and Partners
Proven accountability strategies.
Customised coaching programme to meet individual requirements.
Results are fully GUARANTEED.
FREE no-obligation meeting.
Programme structure:
8 x 2-hour focus meetings
Telephone meetings as required between the focus meetings
Weekly e-mail progress reviews
4 x half-day Master-mind meetings every quarter (optional)
DR PETER HADDON is the Managing Director of Top Achievers Consultants, a UK-based executive coaching/mentoring consultancy, specialising in "helping the best… get even better".
Recognised internationally as one of to-day's foremost executive coaches, he currently deals with clients in the UK, Europe, USA and South Africa. He also creates development programmes and conducts seminars and workshops for senior management.
Academically, he holds PhD, DBA, MBA and B.Comm degrees as well as being the author of the best-selling book 'Mastering Personal and Inter-Personal Skills'. He has written numerous articles on personal development for magazines and newspapers and has conducted radio and television interviews with leading international motivational speakers/authors.
On the sports front, he captained Zimbabwe (then Rhodesia) at soccer on 11 occasions, including the 1970 World Cup tournament. He also represented Rhodesian Combined Services at boxing, soccer and water polo.
Peter was the youngest technical Wing Commander in the Rhodesian Air Force. He subsequently became Managing Director of the Rolex Watch Company (South Africa) and increased its turnover 15 times in the 6 years he was at the helm.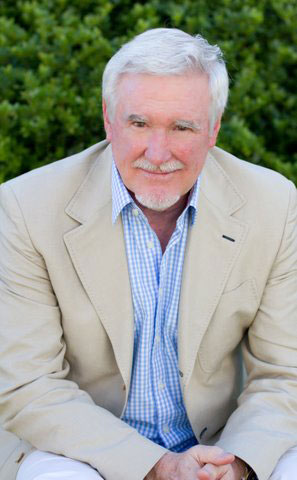 "Peter Haddon is an excellent business growth coach who has provided his professional services to my company over the last 12 years.
He is able to combine his extensive theoretical knowledge of business growth strategies with practical, proven methods born out of 39 years' experience.
We have used his services to improve our effectiveness in marketing, sales, client relationship management, and team motivation.
He has significantly contributed to the success of our company and I would have no hesitation in recommending his services to any company who is serious about achieving exponential business growth."
Peter Fay, Managing Director – Navarre Interiors Limited
"Since 1998, Peter has worked with me personally as well as with the company I was employed by and its primary client – U.E.F.A..
Peter instilled an exceptional process into our management of our business projects – all high growth, high value sales content (U.E.F.A. Champions League being the most notable.)
His methods made a difference, are result-oriented and make eminently good sense practically. We worked with him based on his personality and trustworthiness, irrespective of the fact he offered a full money back guarantee. I would not hesitate to recommend him for mentoring and coaching for public and private business, for individuals and/or SME business or indeed government-based services."
Tom Liston – MD TEAM UK/ MD Marketing TEAM AG (Switzerland)
"I have been working with Peter Haddon on a 'one-to-one' business coaching basis for the past four and a half years. Additionally, I have engaged him to conduct workshops with my team so as to help them understand the principles and techniques of the Top Achievers coaching model. I have personally benefited tremendously from implementing the business growth strategies and tactics covered on the programme.
I was particularly impressed with his accountability process involving regular feedback from selected stakeholders. I have recommended Peter's programme to our HR department for wider dissemination within U.E.F.A."
Peter Willems, Head of Marketing & Sponsorship Activities, U.E.F.A., Geneva. Switzerland
Frequently Asked Questions
Why the Top Achievers programme?
It has a proven record of success over the past 40 years and gurantees results.
Can I pay monthly?
Yes, the investment in the programme can be paid in 12 equal monthly instalments through a Standing Order.
What makes me accountable?
Once goals have been set and plans developed to attain them, there is weekly e-mail performance/progress reviews.
How long is the course?
Usually between 9 and 12 months depending on the individual participant's circumstances.
Does the programme need to be completed in a specific time-frame?
No. It is customised to ensure that all necessary areas for that participant are fully covered, but will not extend beyond a year.
Is this programme offered on-line?
 Not at present although there are plans to introduce an on-line version in due course.
Can sessions be conducted via Skype?
Yes, once a good working relationship between the participant and Peter has been established through the initial 1-2-1 focus meetings, the programme can continue via Skype.
How do you guarantee results?
 If the participant has not achieved a minimum of a 25% improvement in their results within 3 months of completing the programme, having fully applied the principles and techniques covered on the programme, a full refund of their investment would be made.
How do I know that the techniques and skills learned will be sustainable?
 The programme focuses on the acquisition of success habits and the improved results ensure that the habits are sustained.
Based in Winchester, Hampshire, United Kingdom with global coverage.
Call us on
T: 01962 776905
M: 07710 131270
You can contact us:
Monday to Friday between 8am – 6pm
Send us an email



Fill in the form to send us an email.
All fields are required and to help prevent SPAM please solve and enter the simple sum Captcha field (e.g. 10 + 4 =) before clicking 'Submit'.